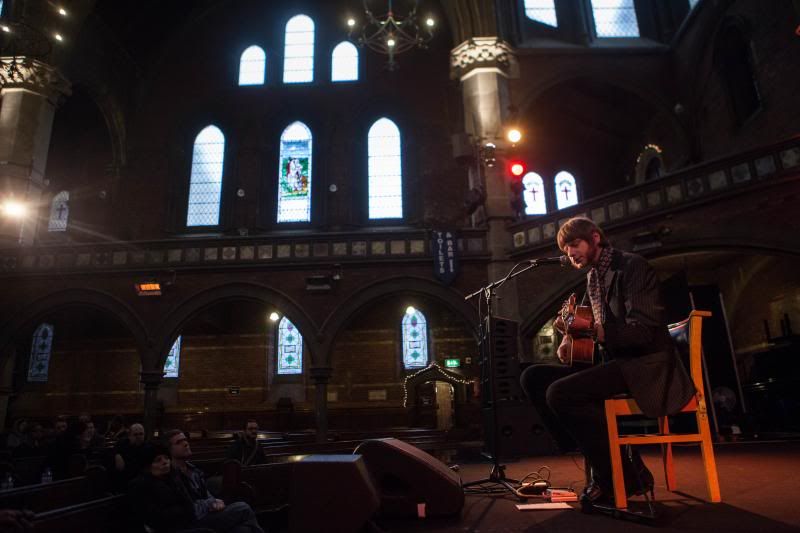 Photo: Jim Lasbury
Saturday 16th November 2013
Here's me at Union Chapel, London UK. Despite having a thick cold fugging my head, and the sorest throat, I medicated myself and by way of a miracle, I recovered to sing and play one of my most enjoyable shows. The sound was perfect, the crowd was I didn't break any strings. If you want to relive that late Autumn afternoon, visit the Bohemian Jukebox YouTube Channel below.
Ben Calvert & The Swifts' psychedelic alt-folk first saw the light of day in front of a few hundred avid ears and eyes when they opened the main stage of Moseley Folk Festival in the early Autumn sun of September 2010. Within half an hour of them leaving the stage two of their songs had been broadcast on Radio Two. Since then they have played a sell-out show as support to The Jeffrey Lewis & Peter Stampfel Band, and opened for Erland & The Carnival and Hannah Peel, as well as playing a 90 minute set to a packed out Birmingham Symphony Hall. Last summer they played their first London show on the Headline Stage at St Pancras Station Sessions Festival, and have since toured Germany, Scotland and the North-West of England.
Debut album Festive Road is out now
Available on CD with booklet in low-emission recycled WeWow Wallet and on 7cm Circus Ball with digital download.
'Introspective and often melancholic vocals offer the perfect picture window to redeeming an era of sound from the likes of Nick Drake. Ben's voice has a quirky edge that is reminiscent of a male Vashti Bunyan. The orchestral sounding magic rests with his band who have a rich full sound. Folk music served up with a splash of dark psychedelia."
**** Folk Radio UK

'Gentle, lilting lyrics stir up echoes of Belle and Sebastian. The lo-fi production adds a charming intimacy.'
For Folk's Sake

'Captures gritty scenarios and balls them up into tunes of semi-surreal indie-folk.'
The Fly
Click the Bandcamp button below to preview and buy.

'Valpolicella Girl is a wonderful psych-folk jaunt that takes its cue from strange and off-beat touchstones informed by a collision of Syd Barrett's quintessential English whimsy and the baroque pop of Scott Walker. Its a slightly surreal slice of summer sing along.'
Green Man Music
'The jaunty Valpolicella Girl is a kindred carnival spirit to (The Beatles) Maxwell's Silver Hammer'
NetRhythms
'A breezy number complete with a 60′s tinged melody and a trippy pop hook that's simply irresistible. The perfect soundtrack to hazy days and heady nights'
Rhythm 'N' Booze
Watch the video to Valpolicella Girl at MuzuTv here
"A stunning collection of melancholic post-folk and classic English story telling all wrapped up in a blanket of strings, organ and piano. The music ranges from sparse and stripped to near orchestral as The Swifts weave a majestic spell. Festive Road is a mesmeric, enchanting affair showcasing a master craftsman at his very best."
Rhythm 'N Booze
Festive Road reveals a sound that the band's live shows have only been able to hint at. With songs produced by Bob Lamb (Ocean Colour Scene) and Dave McCabe, Northern English string arrangements, maudlin horns, a church organ, a bluesy piano, and toy instrumentation join guitars and drums on an album that takes Post-Folk as it's base then nods schizophrenically in the direction of both Scott Walker's darkest moments and Syd Barrett at his most LSD-soaked and child-like.
While making experimental theatre at Dartington College of Arts, Ben picked up a guitar and started writing songs immediately. Influenced by British folk, US Psychedelia and Brit-Pop, audiences and reviewers alike have been charmed by his understated lo-fi post-folk sound that has melodic, narrative, songwriting at the core.
"Finely crafted songwriting" Metro
"Resurrects the mad ghosts of Nico and Nick Drake" Virtual Festivals




Follow @bencalvert
or 'phone him on 07957 45 15 18


(Since February 28th, 2011)
Fill out my form!