We ran hundred of shows between 2003 and 2016 at venues in Moseley and Kings Heath. We've now hung up our promoting shoes. So you can get the vibe, some of the last events are documented below.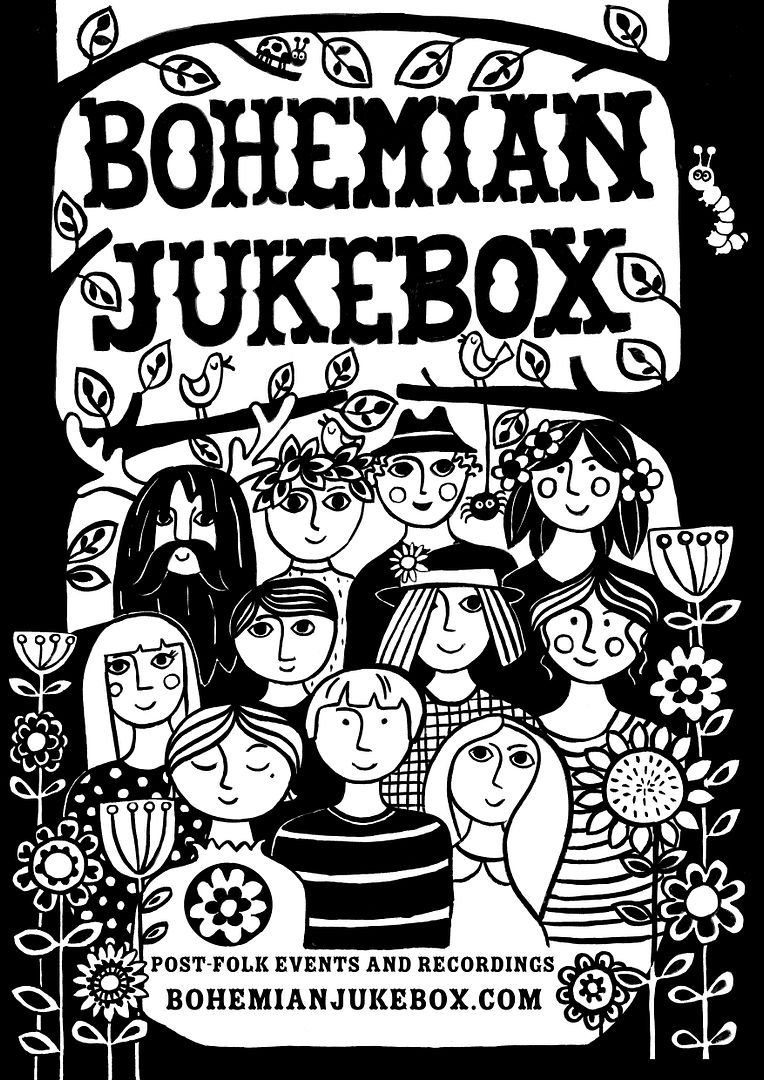 Collins & Dog

Jack Blackman
'Blues has a bright future' (Maverick Magazine)
Jack Blackman is fast developing into one the most accomplished and exciting young performers on the acoustic roots scene today.
Although always haunted by the ghosts of the blues, Jack's music fuses this with classy song writing and a folk sensibility. His voice has been described as sounding 'older and more careworn than his tender years should allow' (Acoustic Magazine, August 2011), and he is also arguably the best slide guitar player of his generation.
In 2013, Jack went into the studios at Leeds College of Music to record a brand new album of all original material. With all of the songs recorded live and in one take, the album showcases Jack's fingerstyle guitar playing and soulful songwriting, and has already been receiving airplay nationally and internationally.
'On Whisky Grave, he picks up a slide, pulling out a barrage of licks that would make Robert Johnson proud'
(Acoustic Magazine, November 2013)
'Jack Blackman's second, self-titled album consolidates his position as one of the hottest prospects in blues and folk. If you like your music stripped of gloss you won't find fault with this full length masterpiece'
(Rhythm and Booze Magazine, October 2013)
From it, the song Charles Walton Blues was chosen by BBC Radio 4 to feature in a documentary telling the story of the 1940s Charles Walton witchcraft murder on Meon Hill in Warwickshire. Jack was then commissioned to record the incidental music for the program.
In Summer 2013, Jack made his second trip to the Mississippi Delta in the USA, the birthplace of the blues, and performed gigs at various venues and radio stations. This culminated in a barnstorming performance at Morgan Freeman's Ground Zero Blues Club. Jack also performed and was interviewed by legendary host 'Sunshine' Sonny Payne on King Biscuit Time Radio Hour on KFFA in Helena Arkansas, alongside blues writer and historian Donald Wilcox.
'River Town is a remarkable record and should win legions of admirers among blues fans and fans of roots and acoustic guitar playing, showcasing, as it does, the talents of an artist about who we shall doubtless be hearing a lot more over the next few years' (Acoustic Magazine August 2011)
'Blackman's playing is lively and fluid right through the album, combining some very agile finger-picking with a percussive slap on the strings.'
(fRoots)
Jack reached the semi-finals of the BBC Radio 2 Young Folk Award in the years 2010 and 2011
jackblackman.com
Indica Campbell
plays laid back acoustic songs that are a fusion of everything she likes; a little bit jazzy in parts, sometimes bluesy and definitely pop
Daughter of UB40's Ali Campbell and the grand daughter of folk singer Ian Campbell her childhood was very music orientated. She attended the world famous Escuela de arte San Telmo in Malaga, Spain and graduated as an accomplished painter. Alongside music, art is her other great passion.
In 2013 she moved back to her home town of Birmingham. She is passionate about her hometown and its musical heritage. Indy is currently writing and recording her first album, supported by three musicians/songwriters and an established producer.
indicacampbell.co.uk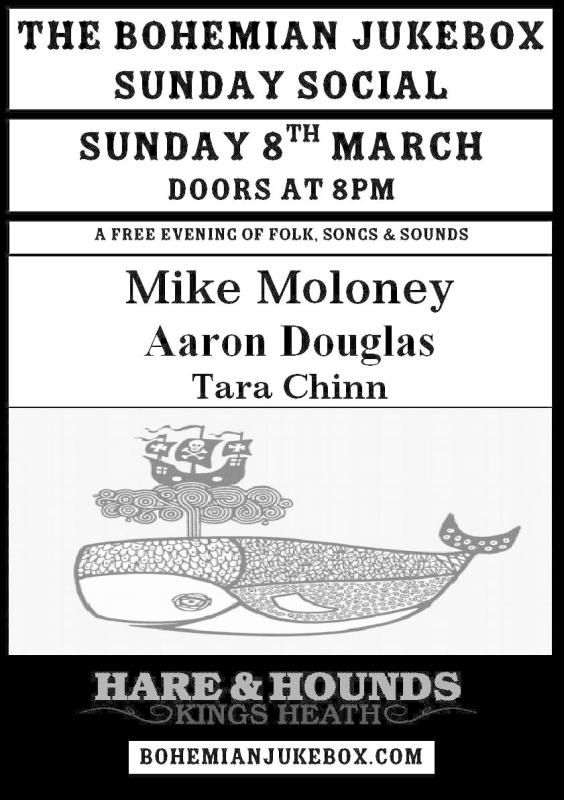 We're bringing Aaron Douglas to Birmingham for the first time. That's surely enough to get excited about on it's own! Veteran songstress Tara Chinn opens the show, and Mike Moloney, (who after playing support to Heavenly Records' H Hawkline), plays his first headline show.
Mike Moloney
Influenced by modern day romantic songwriters such as Richard Hawley, Patrick Wolf, Pete Doherty and 1950's era 'croon rockers' Eddie Cochran & Buddy Holly, Mike Moloney blends pin-drop intimacy with resounding guitar pop creating a sound he coins 'anachronistic heart songs'.
www.soundcloud.com/mikemoloneymusic
Aaron Douglas
is more than just "a guy with a guitar". After cutting his teeth in Devon & Cornwall playing guitar & bass for Cosmo Jarvis, the (now Bristol based) singer-songwriters' blend of different genres, story telling, looping, beat boxing and honest & passionate lyrics has allowed him to carve out a name of his own. Since going solo in 2012 he's played at the Eden Sessions, the Acoustic stage VIP bar at Glastonbury, featured in the Jan 2013 issue of Acoustic magazine, secured endorsements with companies such as Elixir, Lakewood guitars, & Logarhythm stompers, and represented them at Musikmesse in Germany and the London Acoustic guitar show. All this and earning support slots with Plan B, James Bay, Ruarri Joseph, Ryan Keen, Gavin James, Ben Ottewell (Gomez), and Brother & Bones.
aarondouglasmusic.co.uk
Tara Chinn
Having spent a period writing and recording in Nashville, L.A. and New York, Tara Chinn returned to wow audiences in her home city of Birmingham. Her latest material looks to her roots in blues, soul and country. A strong voice, classic songwriting, a knack with a melody and skilled guitar playing have drawn comparisons to Billie Holiday, Nina Simone and Carole King. Her versatility shows in that she's also featured on dance tracks by the Hed Kandi label.
Tara Chinn-Cigarettes & Gin live at HMV Institute Birmingham.
http://youtu.be/2frJVp0qRyo
Click on the facebook event to let us know you're coming: www.facebook.com/eventMarch
_____________________________________________________________________________________-
Come and join us for our first event in the back bar of The Hare & Hounds. Free entry, (We'll pass a hat and all donations go to the acts playing.)Doors are at 8pm first act on at 8:30pm.

World of Fox
Simon is an acoustic meddler, with work ranging from traditional folk songs to more challenging sonic experiments. The songs, performed under various fox monikers, show a more personal, reflective side, with deceptively rich arrangements, a disarming wit and a flair for creating intimate moods. Recordings feature Simon playing a wide variety of instruments, including guitars, banjo, percussion, keyboards, theremin, mandolin, even occasional brass and woodwind.
He's now working on his next album with Sara Fowles featuring stripped back, acoustic versions of their recent songs. Expect it to be out sometime this Spring.
www.worldoffox.com
The Flowers of Despair
play jolly good clever and sweet kitchen sink acoustic Lo-Fi, Acoustic Indie-Pop. Deadpan beauty and brilliance abounds.
the flOwERs of dEspAir LP, "Something Witty This Way Comes" is now available as a free download from;
www.flowersofdespair.bandcamp.com
Dust Motes
"Richey Edwards had to carve '4 Real' into his arm before people would believe he was genuine, all Dave Wilkins has to do is open his mouth. Fragile folk with a dark melancholy heart, Dave's lyrics and soft almost haunted delivery can be devastatingly powerful. Take Smash Yourself To Pieces "I don't know why these brittle arms can't hold you" line for instance. Ain't that a beautiful lyric?"
(Gig Junkies on Dust Motes at Moseley Folk Festival)
Dust Motes have recently played support slots to Stealing Sheep and Sea of Bees.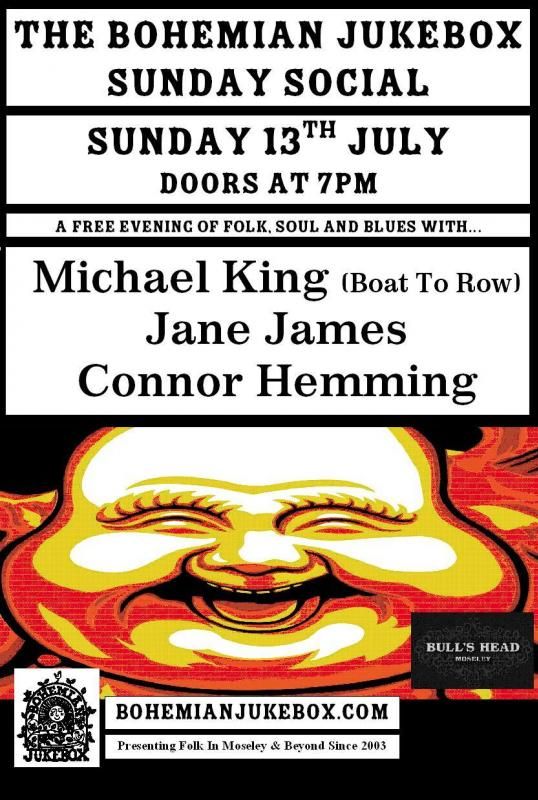 Sunday 13th July,
Michael King (Boat To Row), Jane James, Connor Hemming.
The Bull's Head, 7pm. Free In. (Donations taken)
Michael King (Boat To Row)
In a few short years he's gone from a solo project playing in living rooms, to gracing festival stages nationwide with a band delivering an intricate set.
Tonight he appears in stripped-back form with a solo set.
'Creates leafy acoustic romanticism with baffling finger picking wizardry.' Blue Whale Blog
The band's 7″ single Tightrope is out now on their Nocture label.
www.boattorow.com
Jane James is a solo soul singer-songwiter with Mod written all over her sweet tunes.
www.facebook.com/janejamesuk
Connor Hemming sings garage folk songs with punk and blues influences, coming on like Bob Dylan and Iggy Pop's love-child.
www.facebook/connorhemming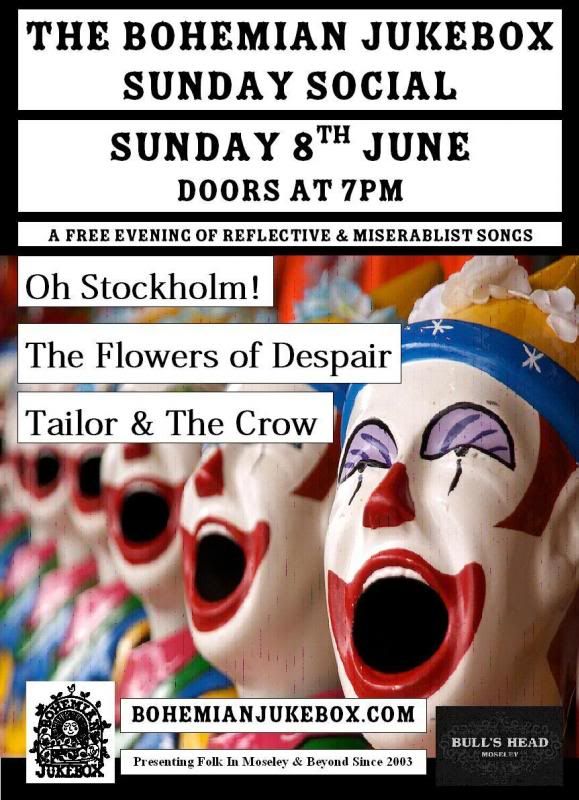 Oh Stockholm!
are four friends who enjoy making wistful folky music. Oh Stockholm! has always been about folk songs which tell stories; songs which are as fragile as they are grand, and as equally bleak as they are hopeful.
'There's more than a little Bright Eyes about Michael Hutchinson's fragile vocals and Anna Bennett's mournful violin in Walking In The Snow – and the Conor Oberst comparisons carry right on through the EP of soft, sorrowful, laments.' For Folk's Sake
ohstockholm.bandcamp.com
The Flowers of Despair
play jolly good clever and sweet kitchen sink acoustic Lo-Fi, Acoustic Indie-Pop. Deadpan beauty and brilliance abounds.
the flOwERs of dEspAir LP, "Something Witty This Way Comes" is now available as a free download from:
flowersofdespair.bandcamp.com