'As the name suggests Bohemian Jukebox is a mix of new-folk sounds, leftfield acoustic, and the downright experimental.' GigJunkies.com
We've brought Scott Matthews, The Moldy Peaches Toby Goodshank, Smoke Fairies, Chris T-T, Lucy & The Caterpillar, John Stammers, Kevin House, Cat Green Bike, Erinn, and a plethora of acts from far, far away to Birmingham's ears for the first time while also presenting the best of Midlands singer-songwriters and folky acts.
We formed in 2003 when folk was pretty uncool. Does that say something?
In 2010 we launched a record label, releasing music on CDs packaged in low-emission, recycled, cardboard, as well as keepsake objects with digital downloads.
Our first release was the Ben Calvert & The Swifts single Everybody Loves Lucy available as a condom and wallet with digital download. Hot on the heels of that was their critically acclaimed debut album Festive Road , available on CD and as a circus ball with digital download.
Follow @bohemianjukebox


Ben Calvert & The Swifts are playing a one-off Wintery show at The Kitchen Garden Cafe on 25th November. They'll be flying in a slightly different formation, with the addition of Sam Ebrahim on viola. They might even have the presence of some borrowed strings from a band who've just finished a big tour…
With support from Simon Fox.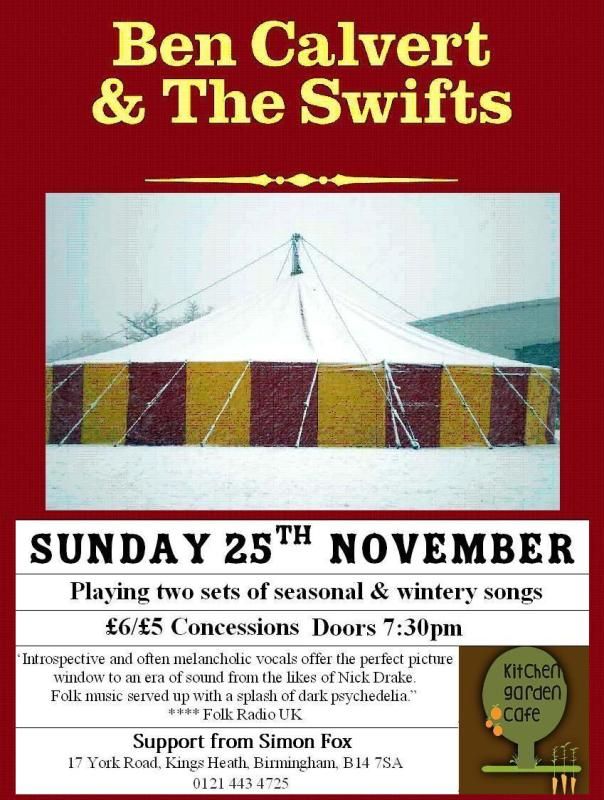 Cannon Street
Cannon Street are Nadi and Rukaiyah Qazi, two sisters that are creating a stir at all levels of the music business. Sweet and effortless harmonies float around strong songs of substance. The girls have been busy writing and recording with Grammy and Ivor Novello award winning writer / producer Eliot Kennedy and his team in Sheffield.
Chris Cleverly
As folk as they come, Chris has traditional unaccompanied songs and self-penned works of beauty in his canon. His own songs are steeped in traditional folky keys, while the words explore more than a few shades of irony and realism.
City Fires
We welcome back this band after their Bohemian Jukebox debut a few months ago. Those who were charmed by their Indie Acoustic duel guitar sound can expect a bigger line-up this time to wow even more…
Click here to go to facebook and let us know you're coming.